Works in Progress...
An Arts and Crafts Table
(The Sullivan table)
Page 2
The top in the final stages of glue-up. The last thing to glue on were the planks with the wane edge and that was done like this...
I made special blocks with a compound angle sawn into them and then used sandpaper was glued to each block so that they would not slip. The top is now all glued, but I have not done any more on it as I have now shifted my attention to getting the trestle parts sawn, fitted and assembled.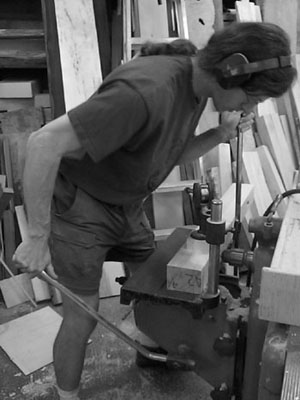 With the stock all sawn I proceded to layout and then cut the joinery for the rails and legs. Here I am at the morticing table cutting the mortices into the top rails. Then after that the tenons are marked and sawn...
.......................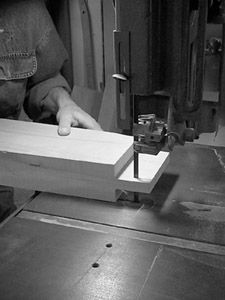 Then the fitting is done and things start to go together....
And after the fitting is all done and everything is perfect in that regard...the shapes can be sawn out of the leg stock...
And that is where things stand as of Saturday, July 1....
For images of the finished table click here...
---
Top of page
Main page....Bric-a-brac....Portfolio....Contact....Works in Progress
The Workshop
---
Mykiss Fine Woodworking
Except as noted, all of the text, designs, and works on this site are copyright of Todd Stockner and all rights to them are reserved. Reproduction or commercial use is prohibited except with express written permission of the artist. The Elephant and Chisels logo is a trademark of the College of the Redwoods Fine Woodworking Program. All other trademarks and registered trademarks are the property of their respective owners. © 1998
---