Works in Progress:
Constructivist Shelving, pg. 9
---
Main page ....How to reach me
Bric-a-brac....Portfolio
Works in Progress....The Workshop
---
With the drawers essentially fit, awaiting the final fitting once the tops are glued on, it is now time to finish all the details that need doing before the tops get permanently attached. I thought it would be a good idea to do the little "feet" first, so that the tops are at less of a risk when the whole unit is turned upside down to build the feet
Here are a few images of the "feet" in progress...it's all pretty self explanatory, so I have not inserted any text.
Solid macassar ebony is used for these feet. I will use the same wood for the handles; that will be the next installment.
---
1
2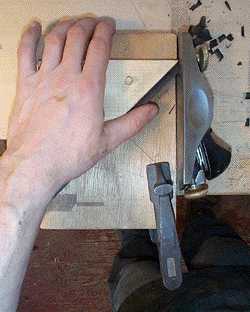 3
4
5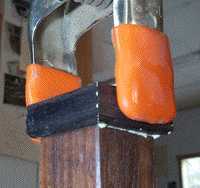 6
---
Next Page
Works in Progress: pg 1, 2,3,4,5,6,7,8
---
Main page ....How to reach me
Bric-a-brac....Portfolio
Works in Progress....The Workshop
---
Mykiss Fine Woodworking
Except as noted, all of the text, designs, and works on this site are copyright of Todd Stockner and all rights to them are reserved. Reproduction or commercial use is prohibited except with express written permission of the artist. The Elephant and Chisels logo is a trademark of the College of the Redwoods Fine Woodworking Program. All other trademarks and registered trademarks are the property of their respective owners. © 1998
---