Works in Progress: Constructivist shelving, pg 7
Dovetails
---
Main page ....How to reach me
Bric-a-brac....Portfolio
Works in Progress....The Workshop
---
Dovetailing is one of the classic cabinetmakers' joints. Commonly used in drawer corners, and cabinet carcase assembly; there are however many variations on the theme and many uses for the joint. Here I will detail the steps involved in the making of this joint for the purposes of constructing the drawers for this set of bookshelves.
This is what dovetailing looks like, it is an involved process requiring patience and commitment...and sharp tools.
---
1
2
3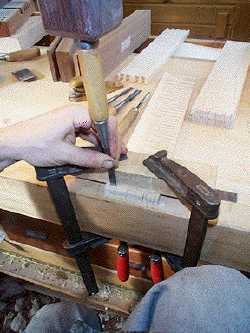 4
1: Carefull layout of the pins on well prepared stock(flat, square, and clean), is essential all good joinery, especially so with dovetailing. The pins are always laid-out and cut first. These are the drawer fronts all laid out and ready for cutting.
2: Using a good sharp dovetail saw, you cut as close to the line as your sawing skills will alow, being careful to not go over the scribe line.
3: After sawing, the waste wood is removed using a sharp chisel. One downward cut from a light blow with the mallet is followed by a paring cut to remove the chip.
4: Once all the waste is chopped out, the pins are pared to the marked lines. Great care is taken to ensure that they remain square.
---
1
2
3
4
1: After the pins are completely pared to final size, square and clean, they are used to mark the tails. This is done by using them as a template and directly transferring the marks onto the tail stock (drawer side). A sharp "H" or "2H" pencil is a real help here. Holding the pin stock (drawer front) exactly in place for marking all four tails, is, obviously, essential.
2: Trust your pencil marks. Again, sawing as close as you dare to the line. The better your sawing is the less paring you have to do later; however, if you saw over the line...
3: Just as in the preparation of the pins, the steps are the same: mark, saw, chop,and pare. Note that in chopping both the pins and the tails, you only chop halfway through, then flip the wood and come in from the other side.
4: Paring the tails is done with even more care than on the pins; this is where your fit is accomplished. Trust your pencil marks. And as you near the lines, check carefully using the pins to see how much is left to remove.
---
1
2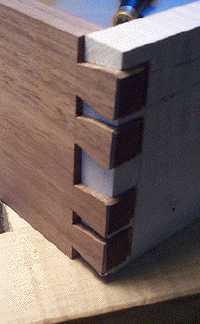 Two views of the completed joint.
---
Next Page
Works in Progress: pg 1, 2,3,4,5,6
---
Main page ....How to reach me
Bric-a-brac....Portfolio
Works in Progress....The Workshop
---
Mykiss Fine Woodworking
Except as noted, all of the text, designs, and works on this site are copyright of Todd Stockner and all rights to them are reserved. Reproduction or commercial use is prohibited except with express written permission of the artist. The Elephant and Chisels logo is a trademark of the College of the Redwoods Fine Woodworking Program. All other trademarks and registered trademarks are the property of their respective owners. © 1998
---