Works in Progress: Constructivist bookshelves, pg 5
---
Main page ....How to reach me....Bric-a-brac....Portfolio
Works in Progress....The Workshop
---
You probably thought that there would be shots of the actual glue-up eh? Lots of gory details and action shots from the front lines...well there aren't. I couldn't take pictures and do the glue-up and my photographer was unavailable for the occasion...So, here are all the shots taken right after the clamps came off:
1
2
3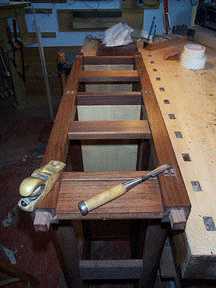 1: Clamps just came off. Note wedges protruding on side of posts. Tape is marked with pencil to make the assembly clear and ordered. Some of the clamping cauls (pad blocks) are still taped in place.
2: Close up of a wedged tenon. The glue is still wet. The wedges have been driven all the way to the bottom of the kerf and joint has closed up exactly as planned. A good fit.
3: Once the glue is dry the tenon and wedge trimming begins. I use two tools for this: my little Lie Nielson low angle block plane and a medium sized chisel; both finely tuned and sharpened.
---
1
2
3
1: Detail showing the corner of the post
2: Close up of a trimmed tenon.
3: All trimmed, backs fitted. Almost ready for the tops.
---
Next page
Works in Progress: pg 1, 2,3,4
---
Main page ....How to reach me....Bric-a-brac....Portfolio
Works in Progress....The Workshop
---
Mykiss Fine Woodworking
Except as noted, all of the text, designs, and works on this site are copyright of Todd Stockner and all rights to them are reserved. Reproduction or commercial use is prohibited except with express written permission of the artist. The Elephant and Chisels logo is a trademark of the College of the Redwoods Fine Woodworking Program. All other trademarks and registered trademarks are the property of their respective owners. © 1998
---