Works in Progress: Constructivist bookshelves, Page 4
---
Main page ....How to reach me....Bric-a-brac....Portfolio
Works in Progress....The Workshop
---
1
2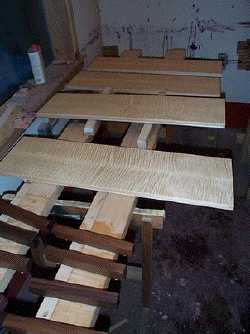 1: So onto the finishing. Here the mortices are all taped to prevent the oil from covering the glueing surface of the joint. Note the tenons on the top are of course also taped.
2: In the finish room. The shelves are getting several layers of shellac polish, they will eventually have a coat of wax applied as a last layer of finish. The walnut pieces next to them are the edgings.
I do virtually all of my finshing before glue-up as this ensures that the work will remain crisp and clean.
---
Things will start happening a little faster now, it is always slow just before the final assembly. Look for glue-up action and the tops to really come along this week (Feb 8 -13). Then it will be onto the drawers.
---
1
.....2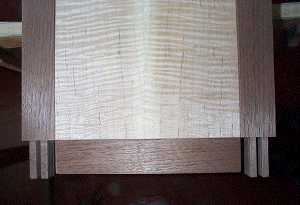 1:Checking fits prior to glue up. All the rails are splined into the maple panels, with the end piece attached by dowels.
2: Close-up of the business end of a shelf. All good to go...
---
Checking the fit before glue-up. If there is any tweaking left to do, now is the time to do it. As things turned out, everything was ready to go.
"Houston...we are go for glue-up!"
---
Works in Progress: pg 1, 2,3
next page
---
Main page ....How to reach me....Bric-a-brac....Portfolio
Works in Progress....The Workshop
---
Mykiss Fine Woodworking
Except as noted, all of the text, designs, and works on this site are copyright of Todd Stockner and all rights to them are reserved. Reproduction or commercial use is prohibited except with express written permission of the artist. The Elephant and Chisels logo is a trademark of the College of the Redwoods Fine Woodworking Program. All other trademarks and registered trademarks are the property of their respective owners. © 1998
---