Works in Progress: Constructivist Bookshelves, Page 2
---
Main page ....How to reach me....Bric-a-brac....Portfolio
Works in Progress....The Workshop
---
1
.2
.
3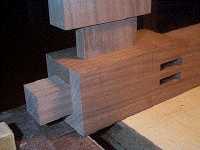 4
1: Final tweaking of the mortices helps the fitting process
2: All tenons are chamfered on the ends; this is especially importent on through joinery as chipping out can occur as the tenon slides through to the other side. Also, it gives a nice clean appearance in this case as they will protrude slightly.
3:A well fit tenon; no gaps to allow for play and movement in the future.
4: A short days work: all of the tenons of the upper rail laid out, sawn, trimmed, and fit.
---
1
.....2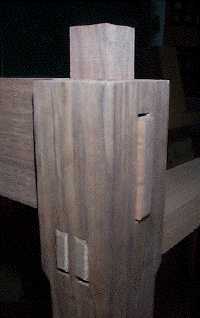 3
1: The double tenons are now in the process of being fit.
2: A view of the outside corner of the top of the post, showing the newly fit tenons.
3: Things are begining to take shape as the structure is assembled.
---
1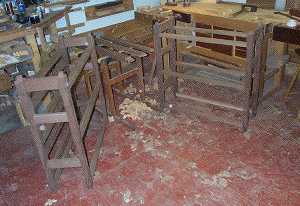 2
1: A view of both frames on my benchroom floor, all joinery is finished and the next stages can now follow.
2: One frame, with all rails in place. Except for a some small things like sawing the kerfs for the wedges, all of the mortice and tenon work is now done.
---
Next page
---
Main page ....How to reach me....Bric-a-brac....Portfolio
Works in Progress....The Workshop
---
Mykiss Fine Woodworking
Except as noted, all of the text, designs, and works on this site are copyright of Todd Stockner and all rights to them are reserved. Reproduction or commercial use is prohibited except with express written permission of the artist. The Elephant and Chisels logo is a trademark of the College of the Redwoods Fine Woodworking Program. All other trademarks and registered trademarks are the property of their respective owners. © 1998
---