---
Main page ....How to reach me....Bric-a-brac....Portfolio
Works in Progress....The Workshop.....The Bench Room
---
I have very simple, but fine machines in my workshop. Pictured above is a close up of my favourite, an 18" Oliver bandsaw, that is like a close friend. Those familiar with this saw will understand...
I have collected these machines over the course of a dozen years and each one has a story for me. They all just seemed to be waiting for me to come along.
Below is a small gallery of what I use on a daily basis to do my machine work.
---
A full view of the Oliver 18"
---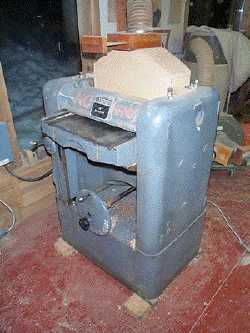 This is my wedge bed 18" Rockwell planer, it can surface anything from 6" to 1/16" thick.
---
My General 10" table saw with a sliding cross-cut side table.
---
1
2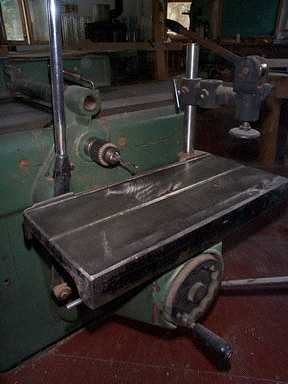 1: 16" "B&V" jointer with morticer side table. Anyone who knows anything about "B&V" and/or this machine I would love to hear from you. All I know is that it is heavy, loud, will flatten anything, and I wouldn't part with it for the world.
2: The side table. I do all of my morticing on this as well as most of my dowelling. I cut moritices with four flute end mill bits and bore holes with shop made (reground) brad point drill bits.
---
This is an old Beaver scroll saw handed down from my wife's side of the family. I have some exceptional blades for it that make a big difference in performance. While it is somewhat under utilized in my shop for the time being, it is a wonderful old machine which will no doubt find its place as my work progresses. It has a sweet sound when running, something like an old, well oiled sewing machine.
Main page ....How to reach me....Bric-a-brac....Portfolio
Works in Progress....The Workshop
---
Mykiss Fine Woodworking
Except as noted, all of the text, designs, and works on this site are copyright of Todd Stockner and all rights to them are reserved. Reproduction or commercial use is prohibited except with express written permission of the artist. The Elephant and Chisels logo is a trademark of the College of the Redwoods Fine Woodworking Program. All other trademarks and registered trademarks are the property of their respective owners. © 1998