The Guesthouse: Interior Views
---
Main page...How to reach me
Bric-a-brac....Portfolio
The Workshop...Works in Progress
---
And here is another small gallery of images of the interior of the building, again with minimal commentary:
I am particularily fond of the ceiling, it is a fine combination of natural edges (the logs that hold it all up) and tight millwork (in the tongue & groove paneling).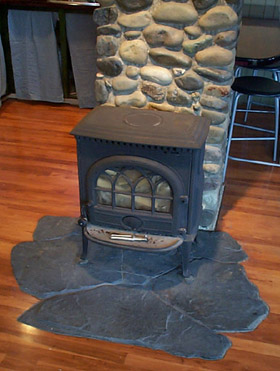 Here is a better view of the stone chimney. Note the small but nonetheless perfect, Jøtul woodstove. The slate hearth is in and worked out really well. You can see the slate in the mudroom and let into the floor of the gallery area as well on the first picture at the top of the page. It is fine example of the perfect blending of form and function.
A small detail showing the counter where it meets the river rock chimney. A little planning ahead during the laying of the rock-work allowed for a relatively easy job of combining these two things.
The interior too has a few more details to take care of, but with my energies now focussed on the workshop and some very exciting projects there, the work that remains on the guesthouse will have to wait for next summer...just in time for the guiding season.
---
Exterior views
To the Dawn Chorus Guesthouse website
---
Main page...How to reach me
Bric-a-brac....Portfolio
The Workshop...Works in Progress
---
Mykiss Fine Woodworking
Except as noted, all of the text, designs, and works on this site are copyright of Todd Stockner and all rights to them are reserved. Reproduction or commercial use is prohibited except with express written permission of the artist. The Elephant and Chisels logo is a trademark of the College of the Redwoods Fine Woodworking Program. All other trademarks and registered trademarks are the property of their respective owners. © 2003
---