The Guesthouse: Exterior views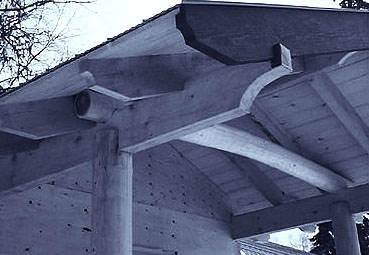 ---
Main page...How to reach me
Bric-a-brac....Portfolio
The Workshop...Works in Progress
---
Here is a little gallery of snapshots taken in September 2002, with only the briefest of commentary:
This is the front entrance, complete with the river rock masonary footings under the root flare of the posts.
This is the overview. Still a few more details left to take care of. Steps off of the covered porch into the meadow, cedar shakes in the little gable-end over the front entrance, and the carved fish on the ends of the lower beams of the front entrance. And likely an unending slate of little things that will keep me perpetually working on this, my biggest "piece" to date.
---
Interior views
To the Dawn Chorus Guesthouse website
---
Main page...How to reach me
Bric-a-brac....Portfolio
The Workshop...Works in Progress
---
Mykiss Fine Woodworking
Except as noted, all of the text, designs, and works on this site are copyright of Todd Stockner and all rights to them are reserved. Reproduction or commercial use is prohibited except with express written permission of the artist. The Elephant and Chisels logo is a trademark of the College of the Redwoods Fine Woodworking Program. All other trademarks and registered trademarks are the property of their respective owners. © 2003
---