Works in Progress
The Curved Screen, pg 2
---
Main page ....How to reach me
Bric-a-brac....Portfolio
The Workshop.... Works in Progress
---
Here all the cores are done, and we are looking at the whole assembly as a mock-up, checking things like the overall length and height etc.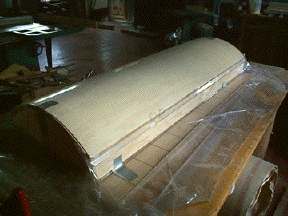 ....
The vacuum press is my primary device for the formation of these curved panels. This is the most vacuum press intensive project I have undertaken since the project I call "Ovals" back in 1996/97. Essentially there are two steps involved with forming these panels: the first is to form the core of the panel, that is done using four layers of 1/8" doorskins (plywood); then the second step is to veneer each panel. So every panel goes into the press twice.
....
These are the rough panels after they have been veneered. Obviously there is alot of trimming still to do.
---
Next page
---
Main page ....How to reach me
Bric-a-brac....Portfolio
The Workshop....Works in Progress
---
Mykiss Fine Woodworking
Except as noted, all of the text, designs, and works on this site are copyright of Todd Stockner and all rights to them are reserved. Reproduction or commercial use is prohibited except with express written permission of the artist. The Elephant and Chisels logo is a trademark of the College of the Redwoods Fine Woodworking Program. All other trademarks and registered trademarks are the property of their respective owners. © 1998
---