The Curved Desk Page 2
Here are a few raw "in progress" shots of the last couple of weeks...
Having to balance my time between cutting my firewood, managing other business, and working on this desk; the work has been proceeding rather slowly.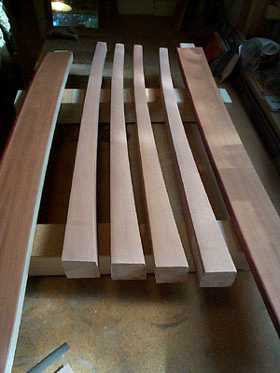 ..............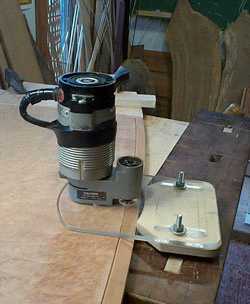 Above left is all the legs and rails having shellac polish applied.
On the right is my slightly modified off-set laminate trimmer that I use for all my stringing work. Here is it is fitted with an adjustable two-point fence for doing the curves on all the edges of this desk. I use a 1/16" straight flute bit for cutting the groove for the tulipwood stringing.
And this is the general scene at the bench when applying the "tiles" around the edge. Here I am working around one end with the spring clamps holding the most recent tiles while the glue sets. Note the litte mitre box and saw for cutting the tiles, and the shooting board with the low angle plane to trim every piece before laying it in.
And this is the top set on the glued up legs and rails. The top is not joined to the legs and rails, as it is still having finish applied.
The next stage is the most technical of all: it is the building and fitting of the curved drawer...
Those images will have to wait.
---
top of page
Main page....Bric-a-brac....Portfolio....Contact....Works in Progress
The Workshop
---
Mykiss Fine Woodworking
Except as noted, all of the text, designs, and works on this site are copyright of Todd Stockner and all rights to them are reserved. Reproduction or commercial use is prohibited except with express written permission of the artist. The Elephant and Chisels logo is a trademark of the College of the Redwoods Fine Woodworking Program. All other trademarks and registered trademarks are the property of their respective owners. © 1998
---